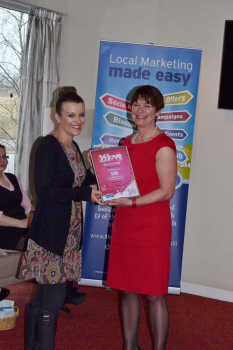 "
I was delighted when I heard the news back in February that I had been voted the most loved interior designer in the UK in the national 14 days of love campaign run by marketing agency
thebestof
which took place between 1st & 14th February. I was away in the Dominican Republic when I heard the news & was completely blown away when I found out.
I would like to say a huge
THANK YOU
to everyone that voted for me as this really does mean the world to me.
The lovely Elaine Carr from 'The Best Of Haverhill' handed me my award & a bottle of champagne to celebrate last week at a 'Bestof' event held at 'The Days Inn' in Haverhill, Suffolk.
Elaine has been a massive support for my design company
Finishing Touch Interiors
and has been on hand for advice from day one of me launching my business back in September 2010.
So thank you to Elaine for making all this possible & believing in me.
With such a good start to 2013 I cant wait to see what the rest of the year has in store for me