My Sunday morning run is definatley off the agenda today. I have been feeling a little out of sorts this week so I am taking today as a proper rest day to enjoy a little sunshine & get my mojo back for what is to be a very busy week ahead. (oh I am itching to tell you all about my exciting news but a few more days yet until I can reveal all.)
So here I am sitting out on my NEW patio after enjoying a scrumptious french toast breakfast, (recipe below) putting together my 'House Clinic' Column for the July issue of Velvet Magazine. I am very excited to be featuring as a regular design expert to answer readers interior dilemas. If you have any troublesome questions you need answering please feel free to Email me & they could get featured. They are a fabulous bunch over at Velvet & I cant wait to work with them. Look out for an upcoming competition I will be running with them soon. But Velvet isnt the only lifestyle mag I will be featuing in from July. The lovely Rachel Ducker from 'Bounce Magazine' has also asked me to write a monthly column. I love to write my blog so being involved writing for these fantastic magazines is truely a dream come true for me. I have a feeling this is going to be a very good year for me, it certainly has been so far....
Here is my scrumptious
Banana, strawberry & blueberry French Toast
recipe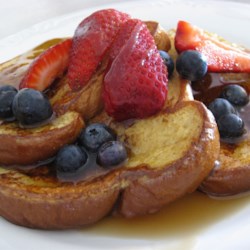 This yummy recipe is from 'Jamie's Red Nose Recipes' its a great breakfast treat recipe & can also be used as a dessert.
Ingredients
* 2 slices of medium cut white bread
* butter
* a handful of mixed berries
* runny honey (or caster sugar) honeys a healthier option
* 1/2 mashed banana (optional)
* 2 large free range eggs
* a splash of milk
* icing sugar (for dusting)
* creme fraiche to serve
Method
1. Butter your slices of bread thinly on both sides. Toss your berries in a little honey (or sugar) just to sweeten them a bit. A little mashed banana holds it all together.
2. Beat eggs together in a bowl with a couple of tablespoons of caster sugar & a splash of milk, then dip both slices of bread in the sweet egg mixture so its egged on both sides. Let the excess drip off, then smear the fruit mixture on one slice, leaving a slight space at the edges of the bread. Put the other slice on top & press down. The egg will help the fruit to stick.
3. Fry in a little butter on both sides pushing down gently so that the fruit is pushed into the bread. Once the bread is golden & slightly crips dust with a little icing sugar & serve.
you can find this recipe with many others over on my other cookery blog
http://sarahjosephscookerycorner.blogspot.com/