I have made no secret of my love of the seaside & I dream of a house by the sea one day. There is something so calming & tranquil about the sea maybe its just happy memorys of child hood holidays at seaside retreats. There is something very raw about beach style interiors that I find appealing.
I have a real ecclectic mix of interior style that seems to flip with my mood. I certainly have no signiture stamped style its all about mixing it up for me with a little style & a little comfort.
I guess the appeal of a space
to me is to be comfortable & practicle yet a little stylish to. I love the comfy look of modern country style with some shabby chic beach beauty thrown in. Slighty shabby glam works wonderfully for a beach look I think. I have a real apeal for vintage retro too (see told you I was very ecclectic in taste). I often feel I should have been born in the 1960's I love so much about that era. But I also have a love of the exotic too.
One thing is for sure my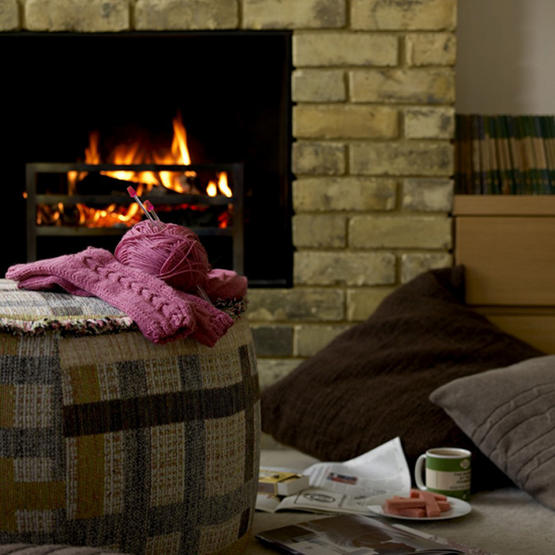 dream home would have an open fireplace. I rattled on about this a lot last Autumn, you see I hate being cold & there is something very comforting about not only the wonderful warmth of an open fire but the therapeutic feeling of watching an open flame burn. I am a girl that loves comfort as you are starting to see. Open fireplace, a cosy sofa covered in snuggly cushions & throws, a very rustic kind of charm.
A living area is some where of comfort for the family to share. Snuggling up watching a family film is my perfect evening, fire roaring in the winter.
When planning a home I would put a lot of thought & time into the kitchen. In my eyes this is the heart of the home. I love cooking & baking & this is a space that needs to be very practicle. I would very much love an open plan kitchen/ dinning area so as to not close myself off as the cook from the kids or from guests we are entertaining.
An island unit is a must for me a place to not only prepare food, but to entertain or a space for the kids to do homework, a space where everyone can be together. I love the gorgeous beige gloss doors in this image they look sleek & modern (easy to wipe clean) but not as clinical feeling as a white gloss door. Mixed here with the ebony striped door takes on a very contemporary edge. Its a very attractive space for entertaining guests.
My dream bedroom would have to be somewhere both tranquil yet romantic. I dont feel the need for lots of pink for romance (not mascuiline enough for my partner anyway) But that cant stop a girl from wanting dreamy white drapes. Ive always wanted a four poster bed, maybe its all those fairy storys I read as a child thats fluffed my brain. A soft soothing neutral pallette is my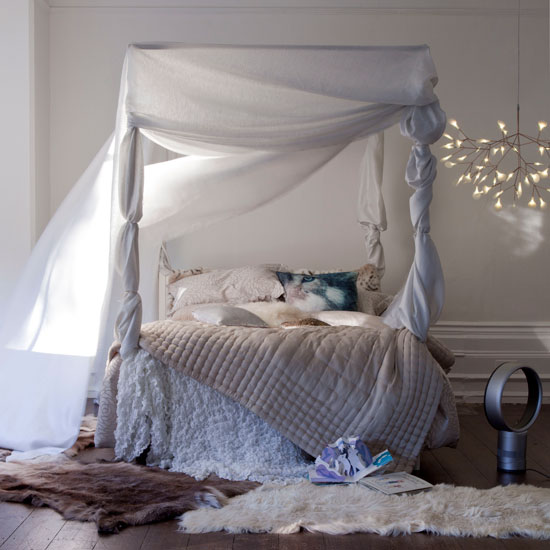 bedroom choice with soft floaty linens mixed with snuggly fur throws for winter or pretty shabby chic style quilts. Of course every girl needs her own dresser. I have a beautiful solid oak one with a large 3 way mirror. Its my space to sit & put on my makeup & brush my hair. I have a few framed photos placed here too, I like to take a little time in getting ready in the mornings surrounded by lovely things like trinkets & photographs of my loved ones. Im a little soft & nostalgic me. Its my specially girly space thats all mine!
I love a neutral pallette for the bathroom too, thats not to say a splash or two of colour cannot be found in a few of the accessories but like the bedroom its a space of tranqulity. I think a bathroom should be your very own slice of a spa in your own home where you can shut the door, step into a nice hot bubble bath & simple relax after a hard days work. Rustic stone tiles ring my bell everytime they shout spa style & luxury & are definatley a must have for me.
I
have to add the biggest focal point to my dream bathroom has most certainly got to be a nice big sized bath, it really does just go without saying its THE place to unwind & a few jet bubbles wouldnt go a-miss either. Dimmed lighting, candles burning, a glass of bubbly & a copy of Fifty Shades what else could a girl need.....
Its not just the interiors I have listed for my dream home, after two summers without a garden to relax in I have thought a lot about a tranquil garden space too.
I have always loved the thought of a small orchard, just a scattering of a few apple tree's not some large vinery.
I remember as a child my aunty having an apple tree in her garden & coming home with apples for my mum to make apple crumble. Its my love of baking with fresh foods its just a funny little dream of fresh baked apple crumbles like my mum used to make & of course they are handy for a bowl or two of scrumptious punch. When my son was little he went to a little cottage nursery that had a little orchard with a few chickens clucking it was such a beautiful place its stamped within my brain
as a place of my serendipity. All thats needed is a pretty little nock to sit & relax in the sunshine, I love this quaint little space I could see me sat here with my quintessentially British cup of tea in a cup & saucer.......
Next week we start a new mini series where we talk to some of my favourite designers & bloggers about thier dream homes, thier style & what inspires them, Our first lovely blogger is Sarah from Modern Country Style.....