I am off to the seaside this weekend to a caravan site with the family. I cant wait, I am wondering where yesterdays sunshine has gone right now though but still looking forward to it all the same rain or shine.
So I wont be posting for a few days
but I will leave you with another house tour today of Mel Gibsons fabulous home that is presently up for sale at a whooping
$11,750,000. I

spotted this wonderful house over on
another blog a couple weeks back & had to book mark it as its such an incredible home.
It is situated on 2.56 sprawling acres which include fruit orchards, organic gardens, a tennis court, a two-story entertainment area with a built-in barbecue, a swimming pool, spa, three guest houses, a detached gym, and a garden cabana with game room that opens up to the backyard. It really is out of this world. You enter the property through large iron gates and it is surrounded by trees and gardens giving it privacy. The main building has 6 bedrooms, 5.5 bathrooms and boosts a truly magnificent kitchen. So lets take a look around shall we.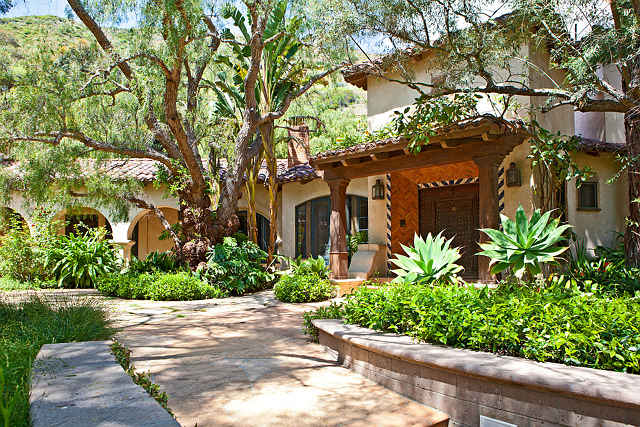 If you thought the
front of the house was impressive check out this stunning
entrance hall.....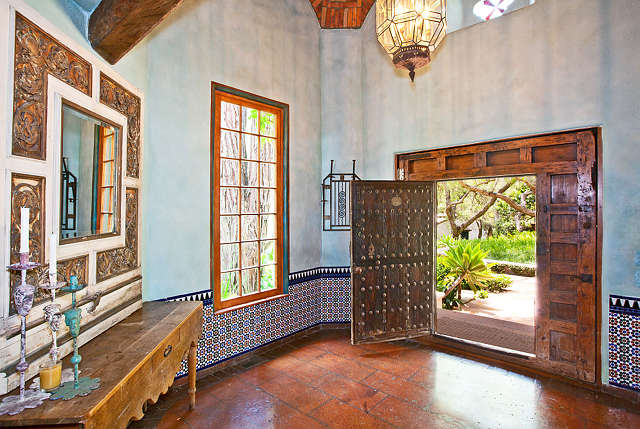 This magnificient kitchen
truly is a dream chefs kitchen with is amazing high bricked ceilings giving such a feeling of space. The natural wood block island compliments the cream cabinets of the main kitchen wonderfully. A large range cooker is at the heart of the kitchen for cooking big parties but it also has a built in wall oven & microwave when it for one.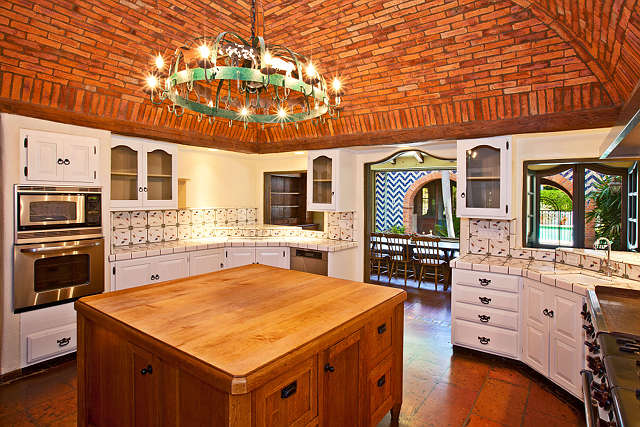 The kitchen leads off to this gorgeously cosy dining area with a great view of the court hard. I love the mix of seating around this table & the comfy looking cushions. Its a wonderful place to relax with friends enjoying food & wine.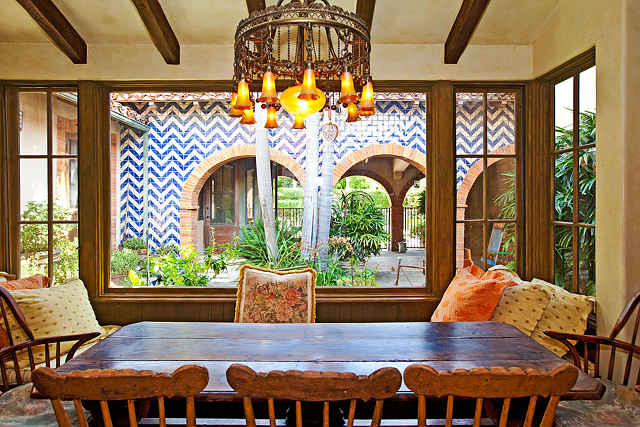 Spacious seating is key for entertaining but its a very relaxed feeling room once again. the vibe of the house is very mediteranian. Comfortable yet still beautifully put together. I love the chunky beams in the ceiling & the gorgeous dark wood furniture pieces. The whole feeling of the house is warm with a mixture of dark woods and beautifully patterned scatter cushions. The warm honey coloured walls are a perfect finish.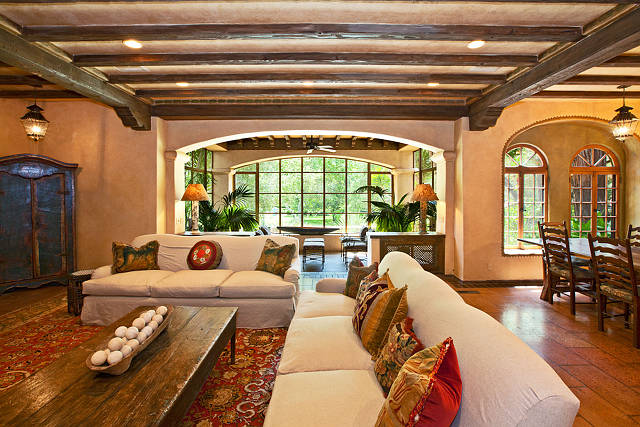 Another incredible ceiling in the main bedroom
makes this room feel huge but with the warm colour pallette
stops
it feeling to vast.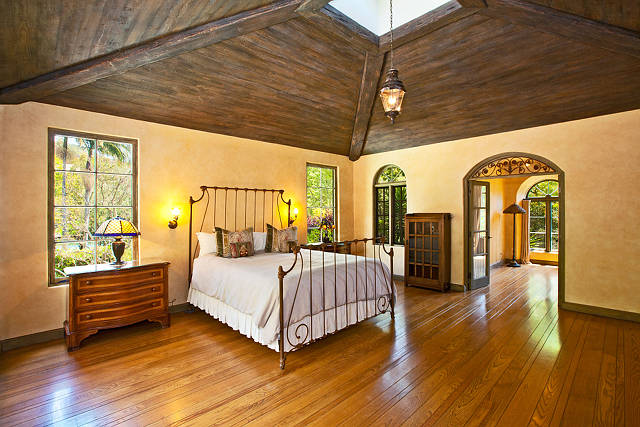 I like that the corner unit has been built into the corner of the room here. I am not to keen on the floor tiles but the general feel of this bathroom is again very warm, friendly and inviting. I love the lantens.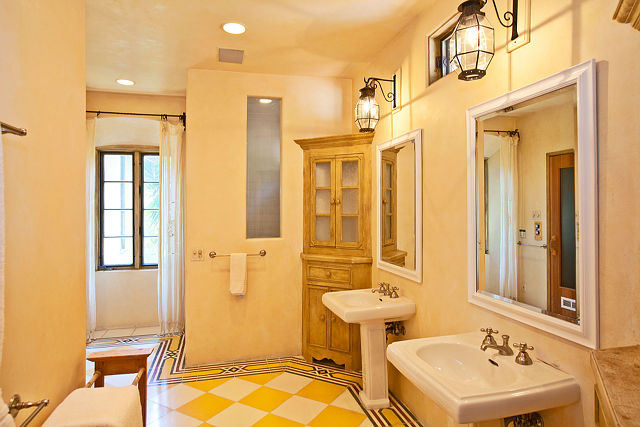 I adore this little nock at the bottom of the stairs. Its a cosy little place to sit with a book.
Every
inch of space has been thought out and utilized in this house, its these finishing touched that complete it.
Ok so this space is for the boys a two-story entertainment area with a built-in barbecue and a cosy area for playing cards or just chilling and chatting with a beer. My boyfriend with love his own little boy pad at the end of the garden where he could chillax with his pals. (He has a shed at the top of the garden...not quite the same hey).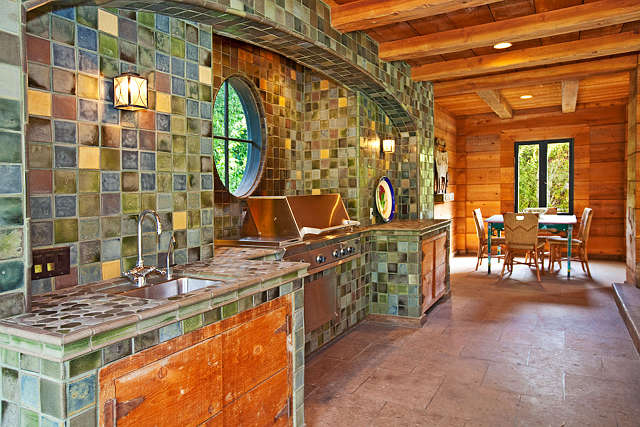 The property also boasts this beautiful pool area that also includes a spa. This is exactly where you would find me while the boys are in their cave playing cards. There is also a tennis court to the property and a gym for when you feeling a little energetic.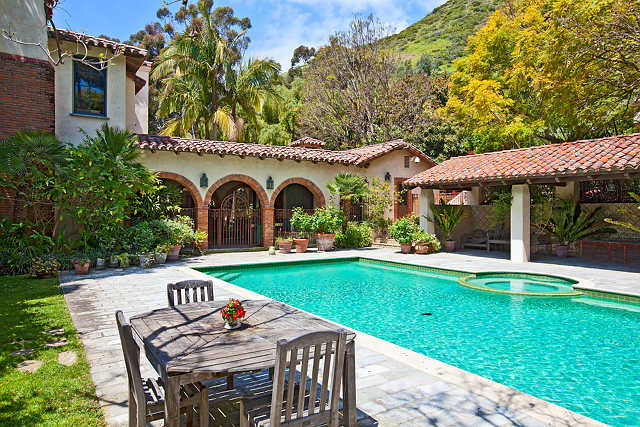 ...
and to finish what about this large game of chess in the garden just in case you are bored with everything else thats going on, rather a cute idea hey. Well I dont know about you but I could live here quite happily. I may have to add a few femine touches but I am a huge fan of this mediterianen feel. Well enjoy the weekend all see you next week xx